About
Droplet is a social networking platform powered completely by blockchain technology. From instant messaging to content sharing, Droplet aims for a completely decentralized platform powered by Solana.
Blockchain-based Social Networking
Droplet provides a pseudo-anonymous account generation method, which does not require any biographical information. As a censorship-free platform powered by blockchain, Droplet also provides an option to verify profiles onchain.This will help.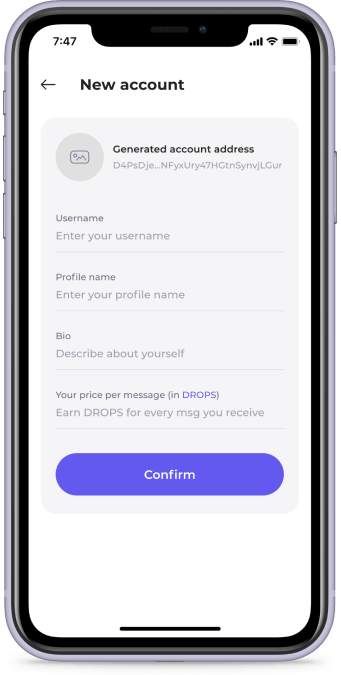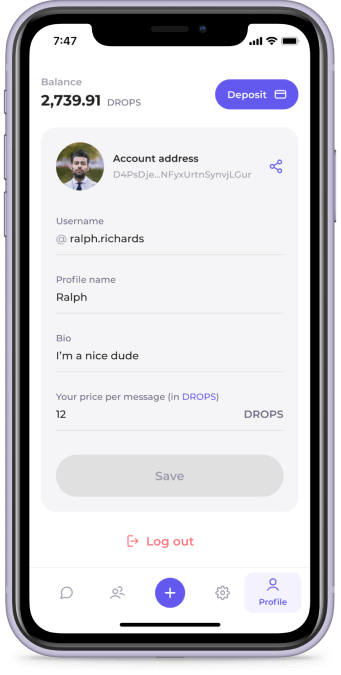 Tokenized Social Networking Platform
Besides the fun and joy of connecting with friends and family over a secure, decentralized, encrypted network, enjoy token incentives. Droplet is the first-ever incentivizing social networking platform powered by Solana blockchain.
List of features
Login with a secret key
Account Generation: Address + Bio + Avatar
Create groups
Audio Calls
Video Calls
Stickers
Custom Stickers
Channels + Folder for them
Favourites
Chats archives
Admin for groups
Calendar
Build in browser
Stories
Delete message for both
Share current location
Current location in real time
Black list
Custom Settings Confidentiality
Secret Chat
Comments
QR code scan / share
Emoji reaction
| List of features | Alpha | MVP | Full App | Viber | Telegram | Whatsapp | Messenger |
| --- | --- | --- | --- | --- | --- | --- | --- |
| Login with a secret key | | | | | | | |
| Account Generation: Address + Bio + Avatar | | | | | | | |
| Create groups | | | | | | | |
| Audio Calls | | | | | | | |
| Video Calls | | | | | | | |
| Stickers | | | | | | | |
| Custom Stickers | | | | | | | |
| Channels + Folder for them | | | | | | | |
| Favourites | | | | | | | |
| Chats archives | | | | | | | |
| Admin for groups | | | | | | | |
| Calendar | | | | | | | |
| Build in browser | | | | | | | |
| Stories | | | | | | | |
| Delete message for both | | | | | | | |
| Share current location | | | | | | | |
| Current location in real time | | | | | | | |
| Black list | | | | | | | |
| Custom Settings Confidentiality | | | | | | | |
| Secret Chat | | | | | | | |
| Comments | | | | | | | |
| QR code scan / share | | | | | | | |
| Emoji reaction | | | | | | | |